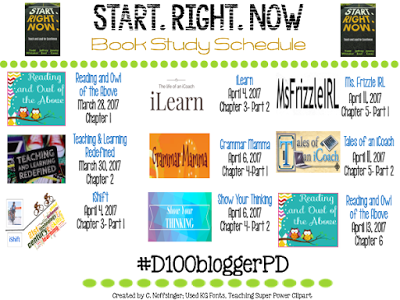 This is the third book study that I've participated in, and every time it is always a wonderful experience to collaborate with others while reading the same book. This time, we are reading the book Start. Right. Now. by Todd Whitaker, Jeffrey Zoul, and Jimmy Casas. I had the opportunity to hear Jimmy Casas speak at an institute day in my district, and he is also speaking at iEngage Berwyn on April 29th. This post is the 7th post for the book study and will go over the first part of Chapter 5: Grow Each Day. Please see Annie Forest's Post on the second half of Chapter 4 and Mona Towner's post on the second part of Chapter 5 as you follow along with our book study!
Chapter 5: Grow Each Day
If you've been following along with the book study, you'll see that this chapter follows the same format of the other chapters. First, the authors define what it means to "grow each day", then they look at why it matters and what it looks like. Finally, they give teacher and teacher leader examples, and include resources for the reader to begin to grow in their own way. This quote was one that stood out to me in the introduction of the chapter: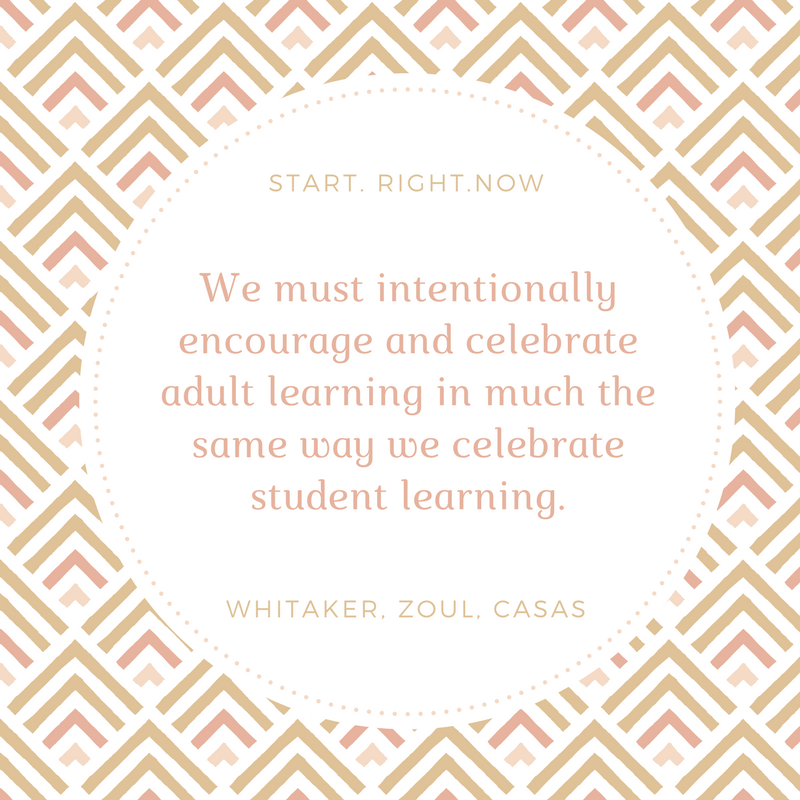 Defining the Standard: Growing for Excellence
The authors define this fourth standard of teaching and leading for excellence as:
Exhibiting a passion for lifelong learning and growth evidenced by individuals, teams, schools, and districts that continually strive to get better by embracing a wide variety of professional learning opportunities and encouraging those within the community to promote and embody this idea.
While this is a hefty goal, it simply boils down to the fact that if we are expecting our students to grow and learn each day, the most powerful way to do that is to model. The authors also list several indicators that show whether or not teachers are meeting this goal, with the most important one being that teachers:
Focus on the question, 'What do I/we need to do, and when do I/we need to do it to ensure that I/we get better and the district, school, department, or classroom gets better?" and acts intentionally to achieve these goals.
By focusing on this question, teachers can narrow down the things that are important to them while ensuring that what they are choosing to do is the best choice for their students, themselves, and their school. As educators, there are always a million ways that we can improve our teaching, so it's important to look at statements like these as a way to focus in on what is most important to us and our students.
Why It Matters
The authors argue that in great schools, excellent teachers are not afraid of critique and always know where they stand in terms of their strengths and weaknesses. Excellent teachers are not upset by critical feedback, but find it necessary in growing their practice. Because they have a clear vision of how they can improve, these teachers are able to find supports to help them become better.
Excellent teachers also work to surround themselves with people who will encourage them along the way. My own environment of encouragement is easily found in my district by people like Annie Forest, Jenny Lehotsky, and Anna Van Asselt who are always there to cheer me and and are always focused on what is best for our students.
Finally, the authors explain how important growth mindset is, not only for students but for teachers, too. As a young teacher I struggled immensely with discipline (and still do!) but am aware that I can lean on almost any teacher in my school for support and a sympathetic ear. Because I have a growth mindset, I feel that I will get better at my discipline, both as my experience increases and as I search for resource to help me. Two books that have been amazing in explaining growth mindset are Mindset: The New Psychology of Success by Carol Dweck and Mathematical Mindsets by the amazing Jo Boaler.
What It Looks Like
One Day at a Time.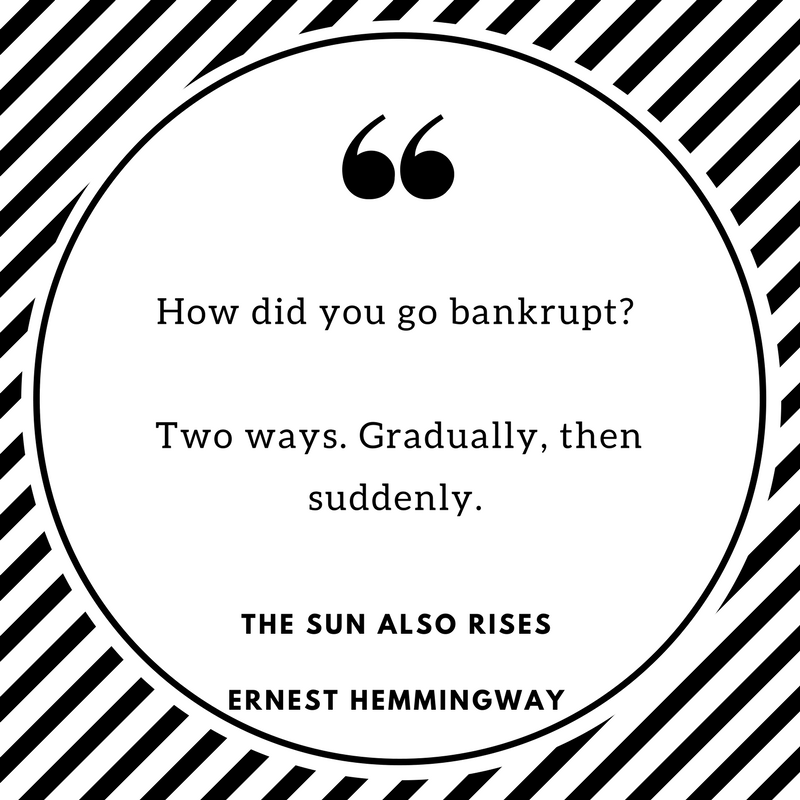 Using this quote from the famous novel, the authors explain that many excellent teachers have developed their skills in way that may look like overnight success, but is often the result of long term, day-by-day small increases in their abilities. These increases are the result of teachers taking risks in the classroom, many of which fail. Excellent teachers take these failures in stride, and use them to learn and grow as they continue to try new things. These teachers also celebrate the small successes in their classroom, and see lauding their students and colleagues for good work just as important as giving critical feedback.
Connect!
For me, my move into a growth mindset came at the same time that I discovered Twitter. At our district's first iEngage technology conference in 2015, Colleen Noffsinger welcomed me into the world of Twitter and blogging, and I haven't look back since. Being on these connected networks allows for collaboration and exploration in ways previously impossible. Something as simple as checking my Twitter on the way to heat up my lunch can open my eyes to scientific articles, a novel way to plan, an inspring blog, or even a cute bulletin board idea. There is simply no easier way to learn. Not only does Twitter open up doors to all kinds of educators, there are also spaces for you to find like-minded eduacators. For example, I can seach the hashtags #engageFMS to find out what's going on at my school, #D100chat to see district-level Twitter chats, or #NGSSchat to connect with science teachers around the world. It truly is inspiring.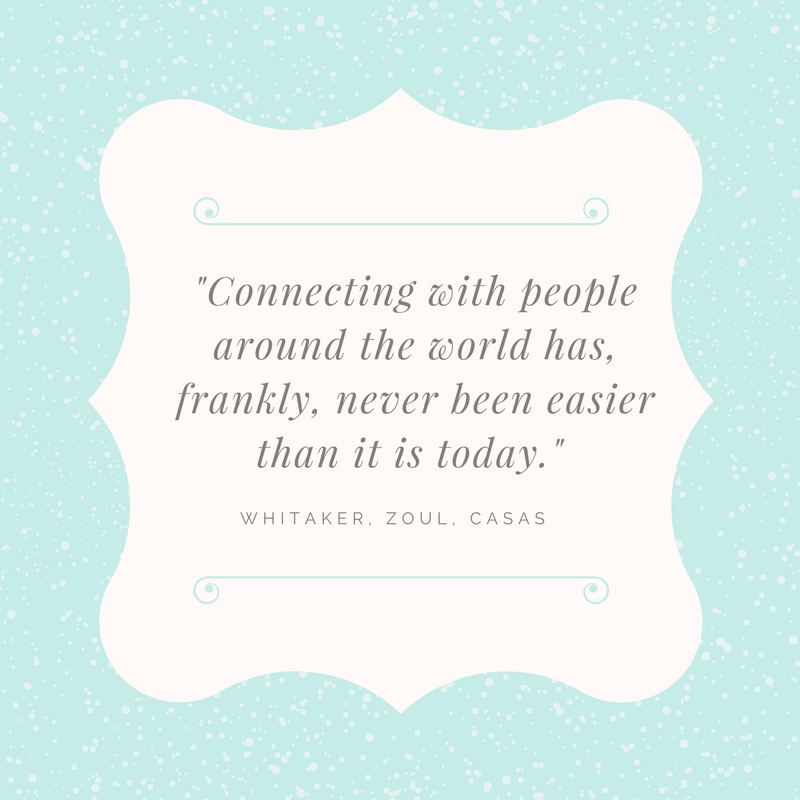 The Challenge Sweet Spot
This last section focused on something that I am continually working to improve in my classroom. Figuring out how to make sure that all of my 162 students are appropriately challenged is a daunting task, but one that is essential to creating confident, engaged, and curious students. Especially in science, my students come to me with all types of background knowledge, and every day is a struggle to meet them where they are and then push them a bit further than they thought they could go.
As educators, we must also find this "sweet spot" of being challenged without overwhelmed. As an introverted teacher, I must admit that each and every day is exhausting for me because being around people drains me. Because of this, I make sure to do the things I love at home, such as reading and playing with my dog in order to recharge. It is essential for me to have this time in order to be the best teacher possible for my students. However, it is easy to get into the habit of complacency or to continue doing the same thing every day simply because it's simple. The authors continually state that teaching is a lifestyle, not a job, and one of the reasons I chose this lifestyle was because it was always going to challenge me. I don't think I've ever had a boring day at this job, and while sometimes I can get overwhelmed, we must continue to push ourselves as educators, and as people.
Summary
Overall, this book continued to reinforce what I know about teacher: it's hard, and it's especially hard to continually push yourself. However, if we want to do what most educators set out to do - change children's lives and make the next generation better - then we need to continually grow and challenge ourselves in our practice. Teaching is called a "noble profession" and for those who are educators, we know this to be true. It is our job to be the best we can be every day for the students, colleagues, or support staff that rely on us. Together, we can do it.